Fashion Horoscope: Gemini
One thing is certain about Gemini: they will never be a follower or be led by rules. They enjoy their independence and insist on having freedom. Whether in a relationship or through work, Gemini will not be tied down by anyone or anything. Although Gemini are great friends, they do not like to feel needed. They are fun to be around and will typically leave an impression on anyone they meet.
Communication skills are an asset of Gemini. They are great at motivating others and can help friends through difficult times. They are extremely good at manipulation and persuasion to get what they want.
Similar to their disposition, the fashion characteristics of a Gemini are fun, impressionable, and full of individuality.
Walking into a closet of a Gemini can feel confusing to most. They have a wide variety of styles and to many it may seem very sporadic.
Gemini has an attraction for clothes that are fun, bold, and can be easily taken care of and washed. A fashion style of a Gemini can be described as eclectic, funky and eccentric. They love accessories, including jewelry and bags.
The sign of Gemini is The Twins, which also fits in well with their style. For many, they may think of a Gemini as having two personalities when it comes to their sense of fashion.
Favorite colors of Gemini include yellow, orange, and magenta and they are not afraid to show them off in their favorite outfit. Although they can have a funky style, Gemini is always put together in their own way.
Everyday fashion for a Gemini is hard to pin down. They are attracted to so many unique and fun styles, that they have a difficult time narrowing their choices. Typically, when a Gemini heads to a closet, they look for a balance between playful and casual.
A day look for a Gemini woman may consist of dark form fitting jeans and a peasant top in a bold color. To complete a day look, a Gemini will typically have a big bold watch on their wrist or several bangle bracelets.
No matter their age, Gemini want to have a youthful look and are attracted to styles that bring out their inner youth. Whether their shoes, clothes, or accessories, they enjoy making a statement.
Gemini have a great time when they head out for a night out on the town. Their fun begins with their style for the night. They enjoy wearing an A-line skirt paired with a bright and bold casual shirt. For a Gemini, the shoes make or break an outfit. They can show off their youthfulness through their trendy and fun shoes.
Accessories for a Gemini are a must and they have to fit their mood and style. Gemini loves to draw attention to their hands and arms. You will often find them with some form of accessory or decoration on their arms, fingers, or hands. Although the accessories can be funky, they always tie in an outfit, either with colors or patterns.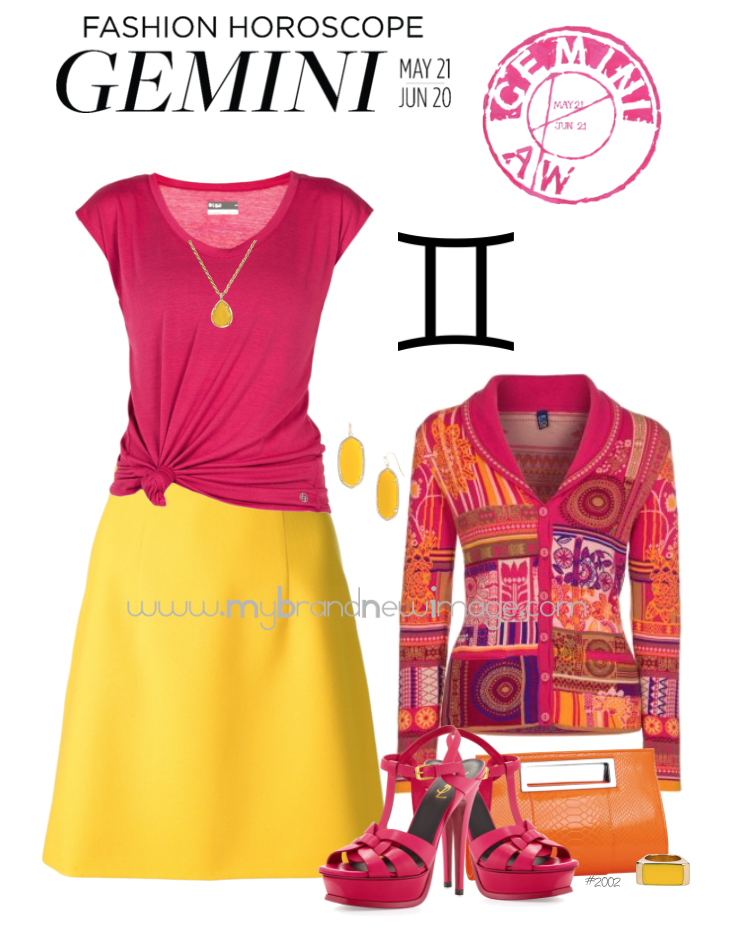 Lija scoop neck tee
 /
Red vest
/
Christopher Kane a line skirt
/
Yves Saint Laurent leather shoes
/
Bright purse
/
Kendra Scott gold jewelry
/
Yves Saint Laurent ring
/
Kendra Scott birthstone necklace
/
Amanda Wakeley scarve